Onyx TREE STORM
TREE STORM plugin for Autodesk 3ds Max is a breakthrough product, now in its 14th year of production – originally developed in 1998 – is the first 4D modeler for trees ever developed. This plugin package enables you to model trees created with OnyxTREE BROADLEAF, OnyxTREE CONIFER, and OnyxPALM generators or TREE CLASSIC generator directly into Max and animate the trees on the wind. The latest version is:
TREE STORM 2013 for Max 2014 and Max 2013
This package also includes:
TREE STORM 2012 (works with Max 2012
TREE STORM 2010 (works with Max 2010 and Max 2011
TREE STORM 2009 (works with Max 2009)
TREE STORM 2008 (works with Max 2008 and Max 9)
Key TREE STORM features that contribute the most to its functionality and effectiveness are:
Speed
Since TREE STORM models trees directly into the scene. Thanks to the fact that no data files are generated, the modeling-in and positioning of trees on the scene is fast.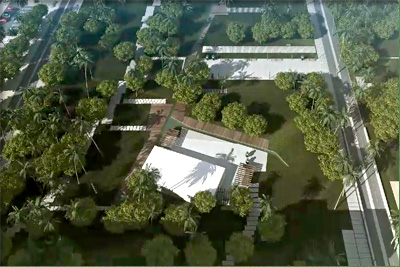 Variabile modeling resolution and detailBesides extremely fast modeling, TREE STORM enables you to choose the detail and resolution of a tree prior to actual modeling. Also, once the tree is modeled in the scene, it takes just a moment to go back, adjust the detail and resolution of the tree, and remodel it again. You can even change this tree by adjusting its random seed, or replace it with another tree from the library.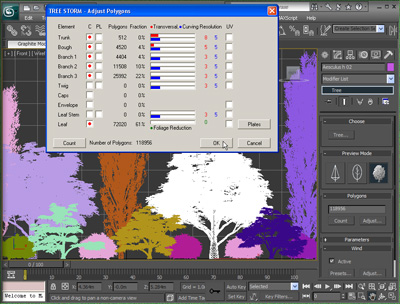 Random variation
Once a tree has been positioned on the scene, you can change it by adjusting its random seed. Or, you can enable random variation in TREE STORM Parameters rolout prior to actual modeling and then proceed with the positioning. Just start by clicking the mouse in the top viewport and the trees are there – each slightly different from the previous one. This is ideal for building tree-lined streets, tree groves, and a forest.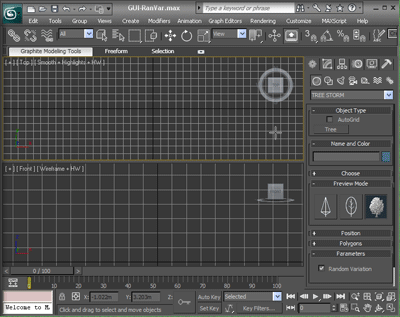 Plant slightly different trees by clicking on top viewport
Color-per-vertex
When you put trees into Max scene with TREE STORM, the default material setting for these trees is color-per-vertex. The colors are set in OnyxTREE BROADLEAF, OnyxTREE CONIFER, OnyxPALM, or TREE CLASSIC, read by TREE STORM, and displayed as Max's color-per-vertex materials. The colors you set in Onyx modelers will not only produce beautiful and highly realistic results, but will also save you quite a bit of rendering time. Therefore, you will not have much need to texture map trees.
System Requirements
Max 2014 or Max 2013. The previous TREE STORMs require the respective Max 2012, Max 2011, Max 2010, Max 2009, Max 2008.
PC with Intel, AMD or compatible microprocessor.
MS Windows 8, 7, Vista or XP operating system
TREE STORM Software Package
Download azip file containing TREE STORM plugin, manual, auxiliary files, and TREE CLASSIC parametric modeler.